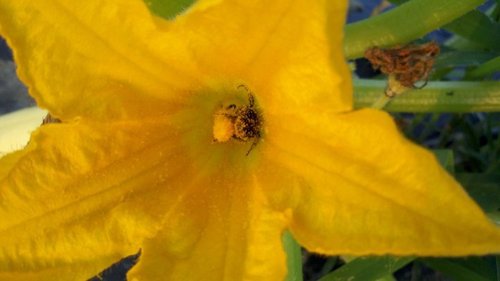 OPEN DAILY FOR 2015 (10am-5pm)........ CSA FALL SEASON starts September 11, 2015 and ends November 20, 2015. CSA shares are available now on a first come basis. SPACE IS LIMITED to available openings so ENROLL EARLY. Pricing is found on the application. CSA shares make great gift ideas too. VISIT US ON FACEBOOK.
Skipper Farms is a local family owned produce farm working to satisfy your quest for fresh locally grown fresh produce. Dad and Grandpa have been farming and marketing their sweet corn and tomatoes since the 1940's and have been complemented by customers thousands and thousands of times for the wonderful fresh taste and quality. They were pioneers for organic growing methods and were friends of the movement promoting environmentally friendly farming practices. There policy was to market only the best and the freshest for all to thoroughly enjoy. We continue to follow their guidelines for integrity and pride of quality. We first opened in Chesapeake at the original Red Shed on Battlefield Blvd. near the Chesapeake hospital in 1982, subsequently we operated the Green Thumb Market on South Battlefield on the road to N.C., after that we farmed a u-pick strawberry farm on S. Centerville in Hickory area (we no longer have that location ). We currently farm just southeast of the Chesapeake Great Bridge Area and another in Greenbrier area. Our variety of homegrown fruits and vegetables includes everything from melt-in-your-mouth green beans and candy sweet cantaloupes, to numerous types of savory heirloom tomatoes, luscious strawberries, super fresh tender corn on the cob, tree ripened juicy peaches, and sweet mouth watering watermelons. Complementing these delicious items are other farm products such as free range eggs, honey, jams and pickles, apple butter, apple cider,peach cider,bedding plants, and flowers. The Skipper family is dedicated to offering superior customer service and the highest quality products! We eat what we grow and therefore avoid the use of synthetic pesticides and herbicides, no genetically modified (GMO) seed, antibiotics, or growth hormones in our practices. We use naturally grown production methods and organic sprays. With several locations in Hampton Roads, we are convenient to everyone and we aim to please! Be sure to like us on facebook, please ! Join our CSA now and show support for your locally grown family farm offering your family their healthy best tasting and freshest local produce choices.
Skipper Farms will be open in 3 LOCATIONS ; one in Great Bridge area, another in Greenbrier, and also Va. Beach for 2015.
WHOLESALE SALES are welcome. We have provided wholesale sales for many years to various area markets. Much of our produce is regularly sold through other leading farm markets throughout Tidewater Virginia. We have supplied Groceries, Wholesale Food Distributors, Restaurants,Caterers, Institutions,Churches,Fraternal Clubs and organizations, and even military clubs and messes. Many of our customers have received culinary awards and Best Of Tidewater selections utilizing our tomatoes and other products. Many of our customers prefer to pick up their orders from our market to avoid revealing their sources to competitors. Contact us to get started.
FALL Season 2015 CSA begins September 11, 2015. OPENINGS are currently now available. We encourage you to join now and avoid going on our waiting list. Visit us on FACEBOOK.